Le Pigeon

Make a Reservation
Le Pigeon's burgeoning chef Gabriel Rucker has a knack for turning the ordinary into the extraordinary. Having flown the coop from Gotham Building Tavern a few years back to open this small and unfussy eatery, he's met with nothing but success ever since. His nose-to-tail philosophy of cooking has produced specialties such as Duck-Duck-Pigeon, a pan-roasted squab with duck confit, and Poussin (a young, small chicken) with shell beans, corn, and chanterelles. With his desserts, Rucker veers away from traditional sugar-laden concoctions and opts for savory treats; Apricot Cornbread with Bacon and Maple Ice Cream is one option. With a menu that never changes, Le Pigeon has most certainly brought in a new flock of foodies in Portland.
---
---
Photos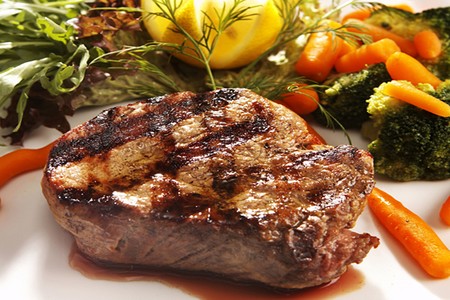 ---
Restaurant Info
Address:

738 E. Burnside St.,

Portland

OR

97214

Cross Street: NE 8th Ave.
Category: Fine Dining
Reservations: Recommended
Parking: Street |
Payment Options: VISA | Amex | MasterCard |
Corkage Fee: N/A
Website: http://www.lepigeon.com
Phone: (503) 546-8796
Business Hours
Monday

| Dinner 5 p.m. - 10 p.m.

Tuesday

| Dinner 5 p.m. - 10 p.m.

Wednesday

| Dinner 5 p.m. - 10 p.m.

Thursday

| Dinner 5 p.m. - 10 p.m.

Friday

| Dinner 5 p.m. - 10 p.m.

Saturday

| Dinner 5 p.m. - 10 p.m.

Sunday

| Dinner 5 p.m. - 9 p.m.
Features
Organic Ingredients
Wheelchair Access
Chef's Table
Occasion
Romantic Dining
Dining Alone
Meet for a Drink
People Watching
Quiet Conversation
Special Occasion
Trendy / Hip
---
F.A.Q. - Frequently Asked Questions
---
Menus
---
Map
Restaurant Address:
738 E. Burnside St.,
Portland
OR
97214
---
User Reviews